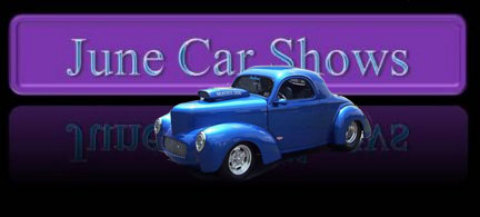 June 5, 2021 – ( Michigantown, IN 46050 ) Clinton Central High School Mega Car Show. Clinton Central High School North Parking Lot, 2 miles south of Michigantown on State Road 29. This will be a Judged Show with 60 award winners. All cars, trucks, motorcycles and specialty vehicles welcome to enter. Registration is from 10 am till 2 pm and entry fee is a goodwill donation. All proceeds will go to equipment needs for the Clinton Central football program. There will be a DJ, food all day, entertainment in afternoon, a silent auction and awards handed out at 4:30 pm. Top 48 will win Best of the Best awards, Top 8 will win Elite Winner awards with the top 4 winning Show Champion awards. Contact: George Gilbert at 765-481-0430 with questions.
June 5, 2021 - ( Richmond, IN ) Vintage Wheels Summer Show @ Roosevelt Hill, Glen Miller Park, Richmond, In. Enter at 2350 East Main Street. Registration 10 am - 12 noon. Awards 3-3:30 pm. D.J., T op 25 & Door Prizes. For more info: Carey Darby (765) 993-9913 or cracey56@yahoo.com. Vehicle entry $10.00, spectators free.
June 5, 2021 - (

​L

afayette, IN ) Join us for our third annual RIDE FOR LIFE that will include a motorcycle cruise, car show, smoked pork picnic, and fellowship this year. Share witness on the sanctity of life, enjoy a relaxing ride through central Indiana, and meet like-minded pro-life advocates during our awesomely catered picnic. We'll meet at Mount Hope Church on N 15th Street in Lafayette, IN on Saturday, June 5th, 2021. Motorcycles can do the cruise & show. Cars are invited to the show. The meal and a t-shirt are included in registration. Dash plaques will be given to the first 60 vehicles signed up. Get more details and securely register online today at www.TCRTL.com . Registration at the event opens at 10 am. Kickstands up at noon. Picnic to begin around 3. Award ceremony for show cars and motorcycles will be at 4:30 pm.
June 6, 2021 – ( Greenwood, IN 46142 ) The Hoosier Corvette Club presents the Open Car, Truck & Motorcycle Show at The Suds at 350 Market Plaza, Greenwood, IN 46142. Registration is from 9:00 a.m. until Noon. No Pre-registration. Dash plaques for first 200 entries. Over 55 Trophies awarded at 2:00 p.m., including Top 50 and Best of Show. Food from Suds will be available all day. Groups who wish to park together need to arrive together. Rain date: June 13, 2021 Contact: Rick Smetana @ 317-956-6376 or email at: rsmetana@aol.com ..
June 12, 2021 - ( Carmel, IN, 46032 ) - Indy Firebird Club & Indy GTO Association Open Car Show. All makes, models, and years are welcome (Cars, Trucks, and Motorcycles are welcome). Dash plaques and awards. Show is located behind the American Legion Post #155 located at 852 W Main St, Carmel, IN 46032. $10 Registration is from 9am-11am, awards at 2pm. Music, food, silent auction, and vendors. Car/Truck/Motorcycle club with most registered vehicles will win $250! IndyFirebirdClub@gmail.com ..




June 12, 2021 - ( Franklin, IN 46131 ) City of Franklin and Cruising the Courthouse present Car-B-Que a car show turned into a full downtown festival!! We will have most of the courthouse square and Main St. to fill with beautiful cars, trucks and motorcycles! There is no charge to enter a vehicle and there will be awards!! Like the title suggests this a car show AND a Bar-B-Que so multiple food vendors will be on site. A DJ will be spinning tunes from 4pm - 7pm and then national recording artists, The Bishops take the stage! The Car show starts at 4pm with awards between 7-8pm. Show ends at 10pm. This should be the coolest event of the season!! More details to come. Please look for us on facebook at: Cruising the Courthouse - Franklin, Indiana or contact John at 317-946-7178 for more details...




June 12, 2021 - ( Buffalo IN 47925 ) Buffalo Daze Car & Motorcycle Show. Held at 306 S ST RD 39 in Buffalo IN. Registration 9-12: $10.00 entry fee: Awards at 3pm. Festival uptown with Great Food; Craft Vendors: Music: Flea Market: Bounce House & More. Call 574-595-0745 for more info..



June 12, 2021 - ( Markle, IN ) 7th Annual Show Us Your Ride Car, Truck & Bike Show, rain or shine, Registration 8am-11am, Awards 1 pm. Awards include Top 25, Best of Show, Best Paint, Best Interior, Executive Director's Choice and Resident's Choice, DJ, concessions, vendors, $10 registration fee, dash plaques to first 75 registrants. Proceeds go to local charities. Please practice social distancing held at Markle Health & Rehabilitation, 170 N Tracy St. 260-758-2131..



June 12, 2021- ( Anderson, IN 46013 ) Annual Piston Popper Car Show at Championship Lanes, 1920 E. 53rd Street, Anderson, IN 46013. Entry fee $15.00 per entry. Registration 9:00AM to 11:30AM with awards at 3:00PM. Will have 50 - 60's music, food provided by Blaze Brew Pub, door prizes. Proceeds to a local food bank. Dash plaques to first 125 entries. Top 25 trophies plus special awards, includes Club Participation trophy. Special door prize drawings for attendees donating at least five non perishable food items that will be used to make food boxes. Contact Hank 765-606-0077. Rain date June 13, 2021.




June 12, 2021 - ( Nappanee, IN 46550 ) 2nd Annual BZ Cruise-In. Burnworth Zollars Chrysler Dodge Jeep Ram. Event held at 2450 N Main St Nappanee, IN 46550. Preregistration available at Bzautos.com and Burnworth Zollars Chrysler facebook page. Event from 9am - 1pm. NO FEE. Open to all vehicles yr 2000 and older. Focus on Mopar and units older than 1990... but everyone is welcome. Food, fun, and live music. Contact Robert 574.773.7878 for more information.




June 12-13, 2021​ -​ (​ ​Indianapolis IN 46234​ ​) - 2021 Slamology Automotive and Music Festival. This show will be held at Lucas Oil Raceway 10267 E. Highway 136, Indianapolis. Friday June 11, 2021 ("No Show" Just credential pick up and Vehicle registration). Saturday June 12, 2021 - Participant Show Hours 8:00am to 7:00pm. Spectator gate hours 9:00am to 6:00pm, Participant Registration 8:00am to 4:00pm, Car Show and Audio Judging opens at 9:00am. Sunday June 13, 2021 - Participant Registration 9:00am to 12:00pm. Car Show and Audio Judging from 9:00am to 1:00pm. Sunday June 13, 2021 - Spectator Gate Hours 9:00am to 5:00pm. Car Show Awards at 3:00pm. Participant Registration (includes Vehicle Driver and Passenger) $50.00 Pre-Registration (Includes Driver, Passenger and Custom Vehicle) $70.00 Day of show. Spectator Ticket - $15.00 two day, $10.00 one day - (Kid's 10 and under Free). Events: Hydraulic Contest, Bikini Contest, Tattoo Contest, Car Audio Sound Quality Competition. If you have any questions please contact www.TruckShow.Org or call 317-856-1810.

June 13, 2021 - ( Crawfordsville IN 47933.) Strawberry Festival Car Show sponsored by the Ben Hur Car Club, open to all show cars and trucks. Held on Green Street at Pike street - follow signs in downtown Crawfordsville to enter the show from Washington Street. Entry Fee $15.00 – Registration 8:00 AM TO 12:00 noon (display only after 12:00 noon) Dash Plaques to First 100 Entries, 50/50 Drawing. Judged Show: Awards at 3:00 PM to the Top 40 Entries plus Best of Show. Food, Craft Booths, Entertainment, and Children's Games located nearby on Historic Henry S. Lane Museum Grounds. Contact Steve at 765-225-1279 or Tom at 765-307-2242 or dshelton@mfgqsinc.com...



June 13, 2021 - ( Peru, IN 46970 ) Car, Truck and Bike Show, Honoring those in Uniform, Police, Fire, Armed Forces, and All Healthcare Workers, the show will be at the Fire Station on West Canal St., $12 Registration, hours 10-1, show 10-3, Call Lester at 765-469-0487..





June 13, 2021 - ( Indianapolis IN ) 935 E. Hanna, Indpls. IN 46227 –Carol's Adventures celebrates Father's Day Early with a Classic Car, Truck and Bike Show! Relics is looking for the best Barn-find Relic in the Midwest! It will be a fun-filled day for all Father's with a great barbecue from Tay Tay's, a Desert Truck from Memaw's Deserts) and many Artisan vendors. There will be Great Entertainment from the band, "Under the Radar" and famed guitarist Davey Jones. Roll in starts at Noon - Registration is $20.00 from 1-4 p.m. Judging promptly at 4 p.m. Awards /trophies at 5 p.m. Dash Plaques for First 50 cars: There will be a fierce competition for Top 10, Best Chevy, Best Charger, Best car that Could be in a Fast and Furious Movie! Best Dodge, Best Ford, Best Mopar, Best Truck, Best motorcycle, Best Hot Rod, Best Rat Rod, Best Mustang, Best Corvette, Best Motorcycle, People's Choice Award, Best Paint, Best Engine, Best Interior, Best GTO, Best Model T, Best Pace Car, Best 50's Car, Best 60's Car, Best 70's Car, Best 80's Car, Best 90's Car and Best 2000-Present, Relic's Redesigned Trophy and BEST IN SHOW! This vintage store is right next to KFC and Newcomer Funeral Home: Highly recommended to pre-register for this show – please email carol at carolsissom@yahoo.com / Vendors welcome..




June 19, 2021 - (Indianapolis, IN 46205) A monthly free community event that welcomes cars, trucks, motorcycles, ... vintage, new, custom, all makes and years. No fee or registration required. Just stop by 9am-noon to show off your vehicle. We offer delicious foods and beverages for sale from several local vendors. Event is free, family- and pet-friendly, and everyone welcome. Located at National - 215 E. 38th Street (between Delaware and Washington). Pictures of previous events and information for 2019 at Facebook.com/National.Indy and Instagram @ National_Indy or email us national.indy@gmail.com. ** Please check our social media starting June 14 for social distancing guidelines and complete list of vendors **





June 19, 2021 - ( Elkhart, IN ) Linton's Spring Car Show. This car show is held at Linton's Enchanted Gardens , 315 County Road 17, Elkhart, IN. 9 am-3 pm. No fees. Door Prizes. 50/50 Drawing. Car owners who pre-register by June 13 will receive two complimentary meals from our Garden Cafe. Contact:Catherine 574-293-9699 or email catherine@lintons.com. Website www.lintons.com.




June 19, 2021 - ( Daleville, IN ) 34th Annual Bank Robbery Run - John Dillinger/Alton Sneed Memorial, 8am-3pm, Registration 8am-Noon, Dedication at 12:30 pm, Award Ceremony at 3 pm, Judged show, Top 50 plus 16 class awards, 5 specialty awards, free t-shirts to the first 100 pre-entries. 765-378-5866 or 765-642-0283..



June 19, 2021 – ( Royal Center, IN 46978 ) Royal Center Lions Club Car, Truck and Bike Show. The show will be held in Rea Park, Royal Center. Registration is from 10 am to 1 pm with judging from Noon until 3pm with awards to follow. All proceeds go to the Royal Center Lions Club. Dash plaques to the first 100 entries. Special awards for: Best of Show, Lion's Choice, Participant's Choice and Furthest Distance Traveled. Class awards include: Cars Stock/original pre-1950 then by decade through 1999 and 2000 and newer, Full custom, three Street Rod/Resto Mod classes, four different Truck classes, Rat Rod, Corvette, Mustang, Camaro, Muscle Car, Tuner and Motorcycle. There will be more than 45 awards presented. Rain or shine. Contact Jesse at 574-702-0514 or Scott at 574-601-5967.




June 19, 2021- ( Muncie, IN, 47303 ) Grateful Fest Classic Car Show, Delaware County Fairgrounds, 1210 Wheeling Ave , Muncie, IN 47303 Registration 11-12. Fee is $10. First 75 cars get Dash Plaques and Hospitality Package to make your show enjoyable and comfortable.Awards at 4:00. Local Madison Street Cruise In held this night, and you are only a few blocks from Madison. Our show ends as the Cruise In begins! Food Trucks, 50/50 Raffle, part of a Fairground Fundraising Festival for Grateful Rescue Animal Sanctuary, the largest Animal Sanctuary in the Midwest, under construction. Questions? Contact Mike 765-273-1043..




June 20, 2021 - ( Farmland Indiana 47340 ) Farmland Friends 19th Annual Father's Day Cruise-In/Car Show, No registration fee. 1:00-4:00 (Join us for church at 10:00 & stay for the show) Muscle Cars, Customs, Street Rods, Rat Rods, Antique Cars, Restomods, Classics, and Antique Tractors. Dash Plaques to the first 75 - Door Prizes - Trophies. Free hot dogs and drinks, Restrooms, Shaded Porches, Fenced Playground. 8311 W. St Rd 32 Farmland, IN. Phone: 765-212-1118 or 765-702-9377..




June 26, 2021 - ( Fort Wayne, IN ) Northern Indiana Truck Scene All Customs, Truck & Car Show, West Swinney Park, 1600 W Swinney Park, Pavilion 1 on Park Drive, Registration 9am-12pm, $20 per car, $10 per bicycle, kids bicycle free, Please donate a pair of socks for Invisible Vets, DJ Fast Eddie, Multiple Trophy Classes, Top 25, All Customs Best of Show, Full size/Mini, People's Choice, 260-435-9482..




June 26, 2021 -(POSTPONDED TILL JULY 31) ( Indianapolis, IN ) ~ Cars Coffee & Convo at Books & Brew 3808 Shelby St. Indianapolis, IN 46227 will be giving away Best OfF Show $100 Gift Card And Ribbon, Best Engine $50.00 Gift Card And Ribbon Best Interior $50.00 And Ribbon, Best Bike $50.00 Gift Card And Ribbon Top 25 Ribbons. For more information please contact Penney Bray 317-653-7128 or email - penneybray1975@gmail.com early registration starts now $15.00 till June 26th day of will be $20.00, would like to fill up U of I parking lot full of cars and vendors.. all proceeds will go Beech Grove High School Athletic Department. 8:00am-10:30am registration 2-3judging and awards 8am-4:00pm Coffee, Cars and Convo plus Vendors, DJ..




June 26, 2021 – ( Linton, IN 47441 ) 29th Annual Linton Freedom Festival Car Show. (Rain or Shine) Entry Fee: $15.00 Proceeds to benefit Riley Children's Hospital and local charitable activities. Registration: 9 AM – 12 Noon Awards Time: 2 PM or Earlier. Location: Humphrey Park, 1351 A Street Northeast, Linton IN 47441. Dash Plaques to the first 100 entrants. Door Prizes & Silent Auction. Open to ALL years, makes and models of Old Favorites and Modern Muscle. Awards: Top 50, Best of Show, Mayor's Choice, Linton Chamber of Commerce, Best engine, Best paint, Best interior, Club Participation and Special Recognition. Email: classiccruisers@comcast.net or web: www.classiccruisers.org​ ..​

June 27, 2021- ( Lebanon, IN. 46052 ) Anything Goes Drive IN . THAT Sports Bar's Anything Goes Car, Bike & Truck Drive In. This Is Held At 100 Smith St. Lebanon, IN 46052 Contact: Danielle 574-514-6659.





June 27, 2021 - ( Sullivan IN ) 10th Annual Sullivan Shifters "Be There or Be Square" Car Show, on the Square in Sullivan, Indiana. Rain or Shine. Top 40 Pre-1990 awards, five awards for Post-1990, Best of Show, Mayor's Choice, eight special awards. Registration 9-noon, awards at 3 pm. Dash plaques to first 100 entries. Pre-registration $12 or $15 day of show. Mail registration to Sullivan Shifters, P.O. Box 176, Sullivan IN 47882. For more info call Irv 812-564-1764.