May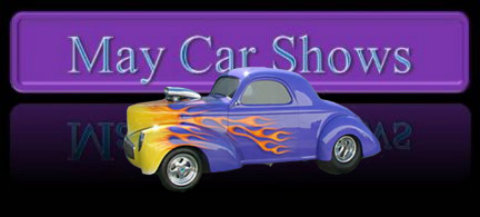 May 6, 2023 - (Kokomo, IN 46901) Spring Fling and Hot Rod Machine Car Show benefiting Chapter 28 of the Disabled American Veterans. This event will be held at Highland Park in Kokomo from 8am until 2pm. Open class, $20 for entry, cash only. Multiple awards will be given out. Live music, food trailers, and vendors will be on site all day. Contact brice_delph@yahoo.com for more info, or call at 765-753-9049..


May 6, 2023 (Martinsville, IN) Join us for our 3rd annual car and motorcycle show held at SingerHobbies, 2072 Burton Ln, Martinsville, IN. Dash Plaques for first 100 entered. Entry cost is $15 in advance or $20 at the day of the show. Register here: https://forms.gle/XVidNCZUB3WakNjh7. Giveaway Packages. We will move the show date to May 20th if rained out. Check-in starts at 9:30, awards will be at 1:30. Trophies::::Top 50 Award, Best in Show, Car Club Award, Tri-Five (1st/2nd), Best Antique (1st/2nd), Best Classic Car (1st/2nd), Best Original/Stock, Best New Age Chevy, Best Modern Chevy, Best Modern Ford, Best New Age Ford, Best VW, Best Modern Dodge, Best New Age Dodge, Best Import, Best Rat Rod, Best Engine, Best Motorcycle, People's Choice Award. If you are interested in sponsorship please reach out to singerhobbies@singerhobbies.com. Vendors are welcome to come setup at no charge ..
May 6, 2023 - ( Sullivan, IN. 47882) Show Your Wheels. Sullivan High School ??th Annual Show Your Wheels. Show Your Wheels Is Held At 902 N. Section Street, Sullivan, In 47882. Registration is at 9:00am to 11:00am. Pre Registration Fee Is $15.00 And Day Of The Show Is $17.00. Free Admission For The Spectators. Awards At 12:30am. Dash Plaques And T-Shirts Are Given To The 1st 100 Participants. Salvation Army Will Be Serving Food And Drinks. Contact: Jason At jinhofer@swest.k12.in.us .



May 6, 2023 - ( Shelbyville, IN ) Shelby County Fairgrounds. Registration 8-10am $10/vehicle. Show 9-4 Awards @3:00pm. Sponsored by O'Reilly of Shelbyville,Vendors, FOOD, Fun.



May 6, 2023 - (West Lafayette, IN. 47905 ) 11th Annual Vettes for Vets. Guest arrival beginning at 10:00AM at the Tippecanoe Amphitheater, 4449 IN 43, West Lafayette, Indiana 47906. Hot Dogs, Chips, Water served at the gathering. Caravan to the Indiana State Veterans Home, 3851 N. River Road, West Lafayette Indiana 47906, at 12:40PM. Car show, donations, and wreath presentation 1:45 to 3:00PM. All donations go to the Indiana Veteran's Home. Event expenses are paid by our sponsor, Christi Hubler Chevrolet. Contact: Phil 765-412-7984.



May 6, 2023 – (Tipton, Indiana 46072) Please join us for the 27th Annual Dan Young Cruise In (rain or shine)! The Cruise In will be located at our dealership at 875 East Jefferson Street, Tipton, IN 46072. All proceeds will be donated to the Humane Society Of Tipton County. Registration will begin at 9am-12pm and awards will be presented at 3pm! 10 awards will be selected by judges and there will be dash plaques for the first 100.

​

Music will be provided by DJ Keith Coryell, Breakfast Provided By Jim Dandy, & Lunch Provided by Tipton Needlers! There will be a Silent Auction, 50/50 Raffle, Door Prizes & Bake Sale! If you are interested in donating to the silent auction or bake sale, please contact Jessica Hobbs at 765-675-1527 or by email jhobbs@danyounggm.com

​ .

Car Award Categories: Best In Show, Best GM, Best Ford, Best Mopar, Most Unique, Dan Young's Choice, Best Truck. Best Rod, Best Engine, Best Interior..
May 6, 2023 - (LaGrange, Indiana 46795). LaGrange County Car Show is brought to you by the Lakeland High School FCCLA group. The event will be held at the Lakeland High School East parking lot. Once you arrive at the school, signs will be up for further directions. There will be a registration fee of $10 per car entering the show. Registration will close on May 5th. If showing your car please be at the school ready to set up by 1 PM. Other small events will take place - voting ( The car with the most votes receives a trophy), garage sale, bake sale, and concessions. Profits will be given back to the community through outreach programs. Entry for spectators is free. The event will last from 2 PM- 6 PM. For any further information or to register your car, call 260-336-4575.
May 12, 2023 - (Seymour, IN 47274) Seymour High School CARR Club presents the 15th Annual Hotrods and Academics car show/ cruise in located at Seymour High School. (1350 W. 2nd St.) Registration is from 5pm -8pm and awards are at 8:15pm. Cost is $10 per vehicle. Dash plaques to the first 50. Concessions and restrooms are available. More info at www.hotrodsandacademics.weebly.com

​.. ​
May 12 & 13 2023
​ ​
-
​ ​
(
Lyons IN. 47443
) 20th Century Chevy Inc Will Be Holding their Day At The Strip May-12 at Wagler's Motorsport Park in Lyons Indiana Featuring Nostalgia Super Stock Shootout. Test & Tune Friday May 12 with gates opening at 5 PM. Entry Fee $20.00 for all cars
​.
May 13, 2023 Gates open 8:00 AM, Nostalgia Super Stock Shootout Time Trials 10:00 AM, Super Stock Qualifying sessions 11:30 & 1:00 First Round Racing 2:00 PM. (we have 26 super stockers showing up). There are 2 classes of racing Drag Cars NO DELAY BOXES, All NHRA safety rules apply, Street Cars, DOT TIRES ONLY, current license plate, NO SLICKS, must have seat belts. Entry fee for either class $30.00 Payout for Semi's, Runner-Up and Winner. First round time trials Drag & Street Cars 9:00 AM with first round racing 1:30. WRV High School will be holding a car show for 1972 and older vehicles registration 8-12 ,Top 10 Awards presented at 2:00. Entry $15.00 which goes towards WRV Machine Shop Class. For racing information Contact Dave Fry at 812-617-5580 or Dennis Breeden at 812-257-4036. For Car Show information contact Matt Birt t 812-698-0775.



May 13, 2023 - (New Castle, IN ) American Legion, 419 New York Ave, New Castle, IN. Car show and motorcycle ride to benefit Sweet Liberty Ranch and Rescue. Register before March 31 for $12.00 after it is $15.00 with proceeds going to Sweet Liberty Ranch and Rescue. Awards around 4:00. Stick around for the food, live band, door prizes, silent auctions. Contact: Sherry Barks 317- 442-5876 to pre-register. Motorcycle ride leaves @ 10:00, car show starts at 11:00. Registration from 11:00 to 12:00. First 50 cars will receive a free dashboard plaque.


M​ay 13, 2023 - (Indianapolis, Indiana 46227), Hoosier Coachmen Car Show, Beck Service Center 6025 Madison Ave., Indianapolis, IN 46227. Registration is 9am to 11am, Cost $20/per entry. One Free meal with entry. Music, prizes, food, raffle, 50/50 and more. Vendor space available-contact info below if interested in setting up. Top 30, Best of, club, and specialty awards at 2:30pm. Any questions please email john.wilson.4691@gmail.com or call 317-699-9899.



May 13, 2023 -(Winamac, IN 46996) ​at American Legion post 71, 16th Annual Car & Bike Show. Reg. 9:00-12:00 est. Fee $15, Judging 11:00, Awards 3:00 for:Top 35 ('89 and Older), Top 15 ('90 to Present), Legion Choice, Best of Show ('89 and Older), Legion Choice, Best of Show ('90 to Present), Top 5 Motorcycle, Legion Choice Motorcycle, Best of Show Motorcycle, Spectator's Choice Car, Truck and Motorcycle. Club Participants Award.​ Best of Shows on following years dash plaques. DJ, Food, Door Prizes, 50/50
For info: 574-595-0217 Roxanne ..
May 13, 2021 - (Crawfordsville, In 47933 ) Westy's 6th annual car and truck show. Corner of SR 47N and SR 32 East (Zippy Lube) Registration 9-12 awards 3pm $15.00, Top 20 and best of show for car and truck. Proceeds go toward Peyton Kobe Scholarship Fund. Dog N Suds Food Truck, DJ, great time.
May 20, 2023 - (
Amity, Indiana
), Amity Baptist Church is hosting a Cruise-In at 3597 South US Highway 31, Franklin, IN 46131. No entry fee. Donations accepted to the Amity Volunteer Fire Department's 'Fire Fund for Displaced Families'. Registration 10am until 2pm. Cruise-In is 11am until 3pm. Food and drinks available. For questions contact Dart at 812-350-7269 or email at
dart-donna@comcast.net
...

May 20, 2023 - ( Johnson County FairGrounds) BIG MIKE Memorial Car Show.
( https://www.facebook.com/events/701970294908518 ),,

May 20, 2023 - (Anderson, IN 46016) Little 500 Festival Hot Rod & Classic Car Show, downtown Anderson on Meridian Street, etc.; Rain or Shine; Enter at 10th & Meridian; Registration 9:00 a.m. to noon; Awards at 3:30 p.m. Top 30 plus Best in Show, President's Choice, County Historian's Choice, Best Classic, Best Hot Rod. Entry fee $20; Proceeds benefit the Museum of Madison County History, "Your Bicentennial Destination," operated by the Madison County Historical Society: Preserving Heritage Since 1884. Dash plaques to the first 100 entries, door prizes, food, and entertainment on site. Contact: Deb 765-683-0052, MWF, 9 a.m. to 3 p.m.
May 20, 2023 - (Frankfort IN 46041) Cars for a Cause! TPA park shelter 1 inside the park. This is a Car show for my dad who has a very rare cancer called Histiocytic sarcoma which is a very rapid and aggressive Cancer that causes him to need treatment immediately. All proceeds will go to help cover medical expenses and bills please come help and support while looking at amazing cars! 10am-3pm entry fee will be $10 we will have 50/50 raffle, door prizes, food and drink, music, contact Josh 765-601-3640.
May 20, 2023 - (Pendleton, IN, ) Sons Armed Forces Day Car Show. Saturday, , rain date May 21, $10 registration fee, registration from 10-12 noon, judging at noon, awards at 2. AMVET Post 26, 939 S. Broadway St, Pendleton, IN, Best of Show, people's pick, Commander's Pick, Club participation, top 30. Dash Plaques, DJ, Door prizes, and great food. Information Troy Jones - 765-602-1999 or AMVET Post 765-778-7224.

May 20, 2023- (Knightstown Indiana 46148) Hickory Classic 3rd Annual Car Show. anything on wheels car, truck, Bike show. This show is held at 355 N. Washington Street, Knightstown Indiana 46148. Registration 8am till 11am. Fee is $15.00 . Awards at 3:00 pm . For Top 30, Best of show, KPD'S Choice, Kids choice, Best Motorcycle, Club Participation , and some specialty awards. All proceeds from the show will go to the KPD'S- K9-Program. Dash plaques and goody bags to the first 100. Food, drinks, Steve's Kettle Corn, Music, Door Prizes, 50/50, T-Shirts, and Vendors . The Hoosier Gym will be doing tours and the Hickory Bus and Car will be onsite. Simons Barks & Bubbles Dog Grooming will be doing dog nail trims $15.00 for large dog, $10.00 for small dogs all proceeds go to KPD-K9- Program. Contact: Lindsey Steinwachs- (765)571-0325..
May 26, 2023. (
Franklin, IN
). Join us in beautiful downtown Franklin in front of the historic Artcraft Theater (57 N. Main St) for a cruise-in during the annual Strawberries on the Square Festival. The cruise in starts at 5pm. The festival offers $6 strawberry shortcakes, food vendors, live bluegrass music and Smokey and the Bandit playing on the big screen at the Artcraft! This is a cruise-in with no awards just a fun night in our beautiful city. Call or text John with any questions at 317-946-7178.
May 27, 2023 - (Winchester, IN) 10th Annual Wick's Pies and Cool Rides Cars - Trucks - Bikes - Golf Carts, One sweet show! Registration 8am-Noon, awards 3 pm. Dash plaques, door prizes, Top 25 awards, Top 5 Rat Rrods and Large Specialty Trophies celebrating our 10th Anniversary. Great Food at Mrs. Wick's Restaurant, downtown around the courthouse. 260-273-1447

​..​
May 29, 2023 - ( Indianapolis, IN. 46237 ) Memorial Day Open Car, Truck, Bike Show. All Makes, Models And Years Welcome. Show is Being Held At RITTER'S Frozen Custard 4949 East Stop 11 Just West Of Emerson Ave. Registration 9;30am Till 1pm, Fee Is $20.00. Dash Plaques . Awards At Apx 1;30 to 1;45pm. Top 30 Awards And Best Of Show. Plus Special Pick Awards . Ritters Pick. ., Best Tri Five ,Best
Street Rod,, Best Rat Rod Mild To Wild, Best Muscle Car Best 2000 to Present.
.