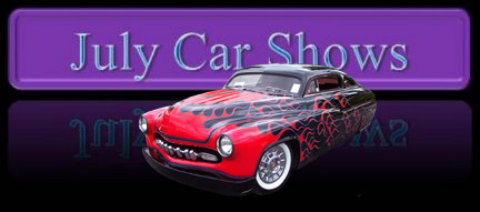 ---
July 4, 2014 - ( New Richmond IN. 47933 ) State Road 55. Registration 9am-12noon. Fee $10.00. Host Charioteers Auto Club. Sponsor SCM Miller and CO. Gould Body & Paint, Contact David 765-567-2244.
---
July 4, 2014 - ( Westfield IN ) 5th Annual Headliners Car Show at Westfield Indiana High School parking lot located at 18250 North Union Street. In conjunction with the 5th Annual Westfield Rocks the 4th community event in Asa Bales Park. Pre-registration by June 28th $15. Day of show $20. Registration 2PM-4PM, Juding 4PM-7PM, Awards at 8PM. Best in Show plus two honorable mentions, Best Display, Best Engine, Best Interior, Best Wheels, Best Original, Best Custom and 1st and 2nd place Park Directors Choice. Also Top 40 judged by participants. Music by Donna's Rock and Roll Cruizin' Oldies. Vendors, exhibitors and an IZOD Indy car. Food, hugh children's activities area, live stage music and Hamilton Counties biggest fireworks display at 9:45PM. Contact Bob Wilkinson at 317-867-0661 or rwilkinson3@frontier.com . For complete information for all events for the day go to www.westfieldrocksthe4th.com .
---
July 5, 2014 - ( Indianapolis, IN. ) 15th Annual National Guard Car/Bike/Truck Show and respectfully request your assistance with the Best of Show trophy and inclusion on your calendar. Here is the timeline. Indiana War Memorial-Veterans Memorial Plaza, 400 North Meridian St. Indianapolis, IN. Registration 0900-1200. Awards 1500. Proceeds go to the Indiana National Guard College Scholarship Fund. Shirts to first 100 entries. Pre registration before 30 June $18. Day of Show $20. Military Equipment to include HH-1 Huey. Questions: 317 247 3196.
---
July 4, 2014 - ( Pittsboro, In ) Cruise in the Freedom Parade then enter in the car show as you enjoy all the food, games and fun festivities before the fireworks display. Parade lines up at 1:30pm on Walnut St just south of 136. Parade starts at 2:30pm and will end at Scamahorn Park, 52 W Main St in Pittsboro, In - entrance is on N Maple St. Registration is from 3 to 6pm, awards are at 8pm. Pre-registration is $10 and day of the show is $15. First 50 get dash plaques. It is participant judged with Best in Show, Top 10, People's Choice, Young Marine Choice, Ladies and Men's Choice awards. 50/50 tickets and live entertainment all put on by the Speedway Young Marines with all proceeds going to the Fallen Hoosier Heroes Memorial. Here is the link for the Show Flyer https://www.facebook.com/PittsboroTownFreedomParade2013/photos/a.566648940097180.1073741827.435804603181615/572982022797205/?type=1& theater
---
July 5. 2014 - ( Peru, IN. 46970 ) 46970 (4th. of July weekend) 1st. annual Precision AutoTech "Open" car show 54 W. Canal St. Peru, In 46970. Show hours 10:00 am-2:00pm $10.00 fee Judged show Awards,Music,Food,restroom,Parking on grass,Dash Plaques. Info: 765-472-2489.
---
July 11, 2014 - ( Trafalgar Indiana 46131 ) 6th Annual Trafalgar Christian Church Car Show. 300 West Pearl Street Trafalgar Indiana 46131. $10 pre-registration. $15 Day of Show. Registration 4:30 to 7:00pm. Awards 8:30pm. Judged Show. Top 20, 3 People's Choice, 2 Special Awards, Dash Plaques, 50/50 Drawing. Music by Sound Off. Send Pre-registration to Ray Quinn 2281 s. 225 w. Franklin Indiana 46131, for more info call Ray at (317)-441-5359. Or E-mail - toobadq@aol.com .
---
July 12, 2014 - ( Indianapolis, In 46268 ) 7225 Winton Dr. Lincoln College Of Technology's 3dr Annual Charity Car Show sponsoring BOSMA Industries For The Blind. Please join us at our campus for Live Bands, Food, Kids Activities, prizes and trophies for all classes and ladies choice award. 9am-2pm Located at the Campus. All Cars and Motorcycles Welcome. $10 Entry Fee. $100 prize for best in show. The event will be immediately followed by BOSMA Industries "Cruise In for Vision" at the Midwest Sports Complex from 3-8 discount available for those who attend both shows. Please contact Vikki Bolen With Lincoln Tech at 937-974-7798 Vbolen@lincolntech.com for more questions.
---
July 12, 2014 - ( Indianapolis IN ) 5th. annual Castleton Christian Church car show and family safety day, this year featuring, Planes, Trains and Automobiles. 7214 Hague Rd. Indpls. Registration: 9:00 till Noon $10. or a non-perishable food item to be donated to the Lawrence Sharing Place. Awards at 3:00 include, top 10, best of show and people's choice. Food available. For further info call George Callahan at 317-443-9901 or E-mail Georgecallahan@sbcglobal.net Anything with wheels accepted.
---
July 12, 2014 - ( Goodland IN. 47948 ) Goodland Community Car show reg 9-12noon. fee $10.00. in the park. food Picnic area. Games. Jim info ajaoneil@embarqmail.com .
---
July 12, 2014 - ( Peru,IN. 46970 ) 4H Fairgrounds 200N. Rebel Rouser's Car Show. 9am-4pm entry $10.00 Venders welcome $10.00 setup fee. Top 25, 5 Specialty Awards and 6 Model Awards. HO Slot Car Drag Races with awards for top female and male racers. Games for everyone with prizes. 50s-60s music. Door prizes. Food available. info: (260)782-2176.
---
July 12, 2014- ( Wheatland, In. 47597 ) Old HWY 50 Vagabond Motel registration 9 AM till Noon. registration fee $15. Top 25 plus Lions Choice, Ladies Choice and Best of Show. awards at 2pm. Dash plaques to first 50.
---
July 12, 2014 – ( Indianapolis, IN. 46268 ) Be a part of THE charity event of the summer. Take a trip out west for the Bosma Enterprises California Dreamin' Cruise-In for Vision, July 12, 3 p.m. to 8 p.m. Visit us at our new location this year at Midwest Sports Complex, 7509 New Augusta Rd., Indianapolis, IN 46268. The event draws classic and modern cars from across the state. All proceeds benefit programs for people who are blind or visually impaired. The car show features a $250 prize for best of show and more than 30 other awards. Preregistration by July 9th is $10 and day of show is $20 from 3-5pm. There will also be a raffle for several valuable prizes including a Turbo 350 Racing Transmission valued at $1,000. For more information and registration visit bosma.org or call 317-704-8152. Make a day of your support for Bosma and visit the car show at Lincoln College of Technology
..
---

July 18, 2014 - ( Frankfort, IN. 46047 ) Clinton County Fair Grounds. on South 39 out of Frankfort about a mile on east side of road. 65 Awards given out in a Judged show. 23 classes for cars and pickups plus a late model class and a motorcycle class along with special awards. Over a $1000 in prizes given away throughout the evening to entries. Registration is on site and $10. Registration begins at 5:00 p.m. and show runs from 5:30 p.m. until 9:30 p.m. when awards are handed out. Fair is on with many places to eat and booths to visit. Over 125 entries last year. For information call George at 765-481-0430.



---
July 19, 2014 - (

Indianapolis, IN. 46240

) 12th Annual Delta Faucet Car Show. This show is located at the corporate headquarters on the northside at 111th street and North Meridian. Registration is 9am - 12pm with awards being at 2pm. The fee is $15.00 ($13 pre-registration)and the proceeds will go to the American Heart Association. Awards will be - Top 25, Best Engine, Best Interior, Best Paint, VIP Choice award and Best Of Show. We will have dash plaques for the first 40 registered cars, the first 30 registered cars with also receive a Delta Faucet. We will have food, music, door prizes and a 50/50 drawing. For pre-registration, send a $13 check to: Dekta Faucet Company - C/O Adam DeVries - 55 East 111th Street - Indianapolis, IN 46280. Please email carshow@deltafaucet.com with questions or additional information.
---
July 19, 2014 - ( Logansport, IN ) OReilly Auto Parts Logansport 2nd Annual Car Show. Anything on Wheels. Show will be in the parking lot of OReilly Auto Parts 2545 East Market, Logansport, IN. Registration 8am - 11am Show hours 8am - 4pm, Registration is free. Awards Top 10 Plaques, Best Paint, Best Interior, Best Engine, OReilly Choice, also dash plaques for the first 50 entrants. There will be 50/50 drawings, door prizes, Music/DJ. Contact; Tyler (765) 271-5277, Lou (574) 721-2855 OR Alan (574)721-3973
---
July 19, 2014 - ( Anderson, IN 46011 ) The 12th Bill Vaughn Cruise-In and Open Car show. 1:00 PM to 5:00 PM. Sponsored by Frisch's Big Boy, located at 500 North Broadway, Anderson, IN 46011 and hosted by the Piston Poppers Car Club. Entry fees are $10.00. Registration 1:00 PM to 3:00 PM. Dash plaques for the first 150 Entries. Trophies for TOP 30 plus special awards trophies. Door prizes, 50/50, raffle, and music by DG the DJ. Join in the family fun with the clowns "Patches and Gracie" and Frisch's special Cruise-In Menu. Proceeds go to "Madison County Humane Society". Contact and additional info at www.pistonpoppers.net and meldb39@comcast.net or 765-617-4224.
---
July 19, 2014 - ( Pine Village, IN 47975 ) 5th Annual Summerfest Car and Truck Show. Sponsored by Sagamore Home Mortgage. This show is located in Willer-Hooker Park off State Road 55. Registration is 9am - 11pm with awards being at 2pm. The fee is $10.00 (proceeds will go to the Pine Village Volunteer Fire Dept/Park Fund). Plaques and trophies will be awarded for the Top 25 Cars & Trucks,"Sumerfest Choice", Best of Show, Top Veterans pick and Farmers pick. We will have dash plaques for the first 50 registered cars. We will have food, music, door prizes and a 50/50 drawing. Please email james_blinn@hotmail.com or call 765-714-7371 with questions or additional information.
---
July 19, 2014 - ( Lafayette, IN 47904 ) Dancing & Cruising In The Streets - People line the streets to watch classic cars and bikes prowl up and down the streets of Downtown Lafayette! A family favorite for years, be sure to attend this year and enjoy the show! This year join us for two stages of continuous live music, the annual Classic Car Cruise and a fun and entertaining KidZone for the little ones. Go to www.dancinginthestreets.net for registration information. See you there.
---
July, 20, 2014 - ( Shelbyville, IN. 46176 ) 17th Annual, Shelby Shifters Classic Car Show, Kennedy Park, Shelbyville, Indiana, show open to all vehicles, Awards, Prizes, 50/50, Multiple Drawings for Gas Cards for Registered Participants, Free T-Shirts to first 100 pre-entries, AWARDS to TOP 75, Best of Show and Specialty AWARDS, Dash Plaques to first 300 Entries , DJ K-C's Rock-N-Roll Oldies , Pre-Entry $10.00 Day of Show $12.00, Pre-Entry must be received by 7/14/2014, Registration 8:00 to 11:00, Awards at 3:00, Food on Site, Proceeds to Blue River Career Center, Shelbyville Parks & Recreation & Community Projects Show entry form will be on the web site, http://clubs.hemmings.com/shelbyshifters/index.htm . Or via email, shelbyshifters@sbcglobal.net ,Info. (317) 835-1450.

---
July 26, 2014 - ( Mooresville, IN. 46158 ) Big O Tire Open Car Show, Classic, Muscle, Custom, New Old, Rat Rods, Street Rods. Imports, Pro-Street. Show Is Being Held In Mooresville, In. St, Rd 67 Across from Grays Cafeteria . Registration 3:30pm. Till 6pm. Fee Is $15.00. Awards At 7pm. For Top 50. Plus Dave's Pick, Employees Pick, Club Participation, Best Engine, Best Paint, Best Interior . 5" Foot Best Of Show And 100.00. Dash Plaques & T-Shirts To First 100. Live Band And Food.Contact: OLDCARSONLY@aol.com Or Call Big O Tire At (317) 834-6840. Rain Or Shine *
---
July 26, 2014 - ( Carmel, IN ) Location: LA Fitness 106 & Michigan Road, Carmel, IN. Cost: $ 20.00. Registration from 8:00a.m to Noon. This will be an open judged car show. Dash plates for the first 50 entries. Trophies for Classic Cars, Muscle Car, Street Rods, Motorcycle, Truck, Import, Daily drivers. Corvette Classes: C-1 through C-4 the C-5's 97-00 & 01-04,C6 and C-7's. Specialty Awards: Best Paint. Best Engine. Best Interior and Best of Show. We will have food and music. If you have any questions contact Marion Mitchell, Marionlawson9@att.net . or Steve Johnson, coachsjohnson317@gmail.com (July 27th is the rain.
---

July 26, 2014 - ( Frankfort, IN ) 2014 Hot Dog Festival Car Show. Registration 9am - 12pm. Entry Fee $10. Show runs from 9am - 3pm. Judged Show 12:30-1:30pm' Open show. 50 Awards including Top 10, Top 20, Top 50 along with Best of Show award. First 75 free dash plaque. Show address is at the corners of Jackson and Clinton Street in downtown Frankfort, Indiana using the Ivy Tech parking lots. Festival going on with many food booths and lots to do. Awards will be handed out at 2:30pm. Information call George 765-279-8526'
---