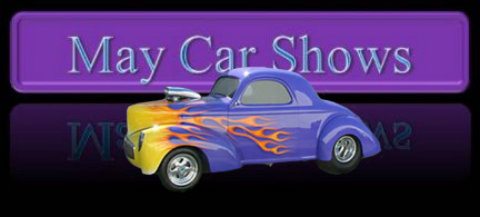 May 21, 2017 - Postponed ( Indianapolis, IN. 46237 ) Open Car, Truck, Bike Show. All Makes, Models And Years Welcome. Show is Being Held At RITTER'S Frozen Custard 4949 East Stop 11 Just West Of Emerson Ave. Registration 9;30am Till 1pm, Fee Is $15.00. Dash Plaques . Show To Benefit Alzheimer's In Memory Of Chuck Guedel. Entertainment By The StarFire Cloggers At 1;15pm. Awards At Apx 3;15pm. Top 25 Awards And Best Of Show. Plus Cloggers Pick And Special Pick Awards By The Guedel Family Picks. Best Camaro All Years.Best Engine, Best Interior, Best Corvette All Years, Best Mustang, Best Bike, Best rat Rod, Best 4x4.





May 21,2017 - ( Morristown, IN 46161) Morristown Boys and Girls Club Car Show ,381 Morrison Rd.,Registration 2:00p.m. -3:30p.m. ,Judging 4:30p.m. Entry fee $10 Anything on Wheels welcome Top 20 Best of show,Best Mopar, Best Gm,Best Ford, Best Import, Best Motorcycle,Best Interior,Best Engine ,Longest Distance, Local Bands all day,Carnival rides ,Contact Jeremy at 765-745-0956..





May 21, 2017 - ( Greenfield, IN - 46140 ) Rods In Progress & NSRA (National Street Rod Association) Fan Appreciation Day, Open House, Cruise In & Car Show - 10:00 to 2:00 Located at 1011 A East Main Street Greenfield, IN. Free Admission, Dash Plaques, Door Prizes, 50/50, Trophies, Vendors, Food, Drinks and Music. Safety inspections available. Contact Micki Baker 317-727-5875 or email info@rodsinprogress.com .



May 21, 2017 - ( Twelve Mile, IN 46988 ) 6th Annual General Store Pizzeria Car Show, 6512 E St. Rd 16. Reg. 9am-Noon, Show 10am-3pm, Smoked Pork Chop & Chicken Breast buffet, unique dash plaques for 1st 75 participants, Live DJ Music with "Fast Eddie", door prizes, gas card giveaways. Visit http://www.theoldmillgeneralstore.com/ or call 574-664-2000..


May 25, 2017 - ( Indianapolis IN ) Thursday evening 5-9 p.m. 4961 Madison Avenue, Indianapolis, Indiana 46217 Classic Car Truck and Bike Show at "Here Today Gone Tomorrow" Vintage Flea Market. (Corner of Madison Avenue and Thompson Road.) New furniture/mattress store holds yet another Classic Car Truck and Bike Show with BOX BURGER FOOD TRUCK (specializing in hamburgers and french fries) 5-8 p.m. First 40 cars get a dash plaque. First 12 cars get a free Diary Queen Blizzard (coupon). Dont' miss a chance to win many specialty awards like the "Best in Show" trophy, best truck, most original & lots of door prizes; eat some good food and listen to some good music. Special Guest Singer Carly Coffee will be singing. Registration $15.00 5-8 p.m. Judging at 8p.m: Trophies and awards immediately afterwards. Everybody goes home before dark: Come early to get a good parking spot. To pre-register call (317) 220-8891. Dont' forget your red nose!



May 26, 2017 ( Franklin, IN 46131) Strawberries on the Square 57 N Main St. 6pm-10pm. Cruising returns for the summer season with our kickoff event. This is a great family event with fresh strawberry shortcake available as well as other food, activities and live music. The car show event is free and there will be no awards presented. Come enjoy the beautiful downtown Franklin courthouse square! For any questions contact John at 317-946-7178.



May 27, 2017 - ( Sharpsville, Indiana ) Summer Place, "a real 50's town" is having its 15th Annual Car Show on Saturday, May 27, 2017. The proceeds benefit "A Home for Every Child Foundation." Trophies to be awarded are Top 20, Best Paint, Best Engine and Best Interior. T-shirts will be given to all pre-registered entries and dash plaques given to the first 200 car entries! Spend an enjoyable afternoon while strolling down Memory Lane to a unique, one-of-a-kind place! Listen to the sounds of The Nosey Joe Band playing 50's and 60's rockabilly music and Roy Carter playing country music with a little classic rock mixed in. Old movies will be playing continuously in the movie theater! Burgers, fries and old-fashioned flavored cokes will be served in Angel's Diner all afternoon for $6 per person. Hot dog, chips and drink meals for $3. Banana splits will also be available for just $3. Spectator admission is $5 per person (and tax deductible). Children under 12 are free. Car show pre-registration fee is $15 and includes a free t-shirt and admission to Summer Place. Day of show registration fee is $15 (does not include t-shirt). Pre-registration entries must be postmarked by May 5, 2017. Entry fees payable to "A Home for Every Child Foundation." All car show entries receive free admission to Summer Place. Registration is from 9 am - 12 pm. Car awards at 3:00 pm. Summer Place is located at 4190 North State Road 19, Sharpsville, Indiana (5 miles north of Tipton on State Road 19). Contact 765-963-5943 or www.asummerplace.org to pre-register today





May 27, 2017 - ( Crown Point, IN 46307) Saturday. 107th Cobe Cup Cruise. The Regional Streeters Car Club of Indiana hosts the 107th Cobe Cup Celebration and Cruise on Saturday May 27, 2017 at the Lake County Fairgrounds 889 S. Court St. Crown Point, IN. The annual event commemorates the 1909 Cobe Cup Race, a predecessor of the Indianapolis 500. Registration from 8:00am until 11:00am. The cruise leaves the fairgrounds at Noon and travels through Cedar Lake, Lowell and Crown Point lasting about one hour. The cost to participate ia $15.00. Proceeds benefits local charities. See www.regionalstreeters.com or call Ray Miranda at 219-545-2024 or call Troy Bush at 219-775-7047.



May 27, 2017 - ( Bluffton, IN 46714 ) 6th Annual "River's Edge Classic 2017", 400 Caylor Blvd. (Hwy 116), Reg. 8am-Noon, Awards 3 pm, proceeds go to support the Alzheimer's Association, vendors welcome, Model Car & Truck Show -- all ages! dash plaques, awards, door prizes, contests, concessions 260-824-8940..



May 28, 2017 - ( Laconia, IN 47135 ) Noon-4pm Veterans Memorial Car Show, 3rd Annual sponsored by St. Peter Catholic Church. Held at South Harrison Community Park-8750 S Harrison Park Rd, Laconia, IN 47135. $5 entry fee that goes to the Harrison Co Veterans Assembly Fund. Trophies and free basket raffles for entrants. Craft/Food booth and raffles. Winners announced at 3:30pm day of show. See https:\\www.facebook.com \\ veteransmemorialcarshow for more info or Contact: Danny/Therese Bibb at dandtbibb@yahoo.com .




May 28, 2017 - ( Kentland, IN ) Sunday - Memorial Weekend ...3rd Annual Car, Truck & Bike Show to be held at Cast Park - 1 mile North of Route 24 off Route 41 .. West 1/2 mile on Princeton Pkwy (1550 South) - Kentland, IN. Regs is 10am - Noon C.S.T. (Chg time) Regs Fee is $ 10.00 // Awards at 3:00 pm .Top 75 + Dash plaques to first 100 ... DJ Service by Fat Rat ...Food by Jordy n Jax .T-Shirts by Reinforcement Designs . NEW this year - Free Test your race car driving skills on a NASCAR Simulator (donations to Wounded Warriors project graciously accepted) & FREE pony rides + petting zoo for on site for the kids ! Food, Music & Door Prizes. No Rain Date. a "Road Relics Gig".Contact: Mike at #219-964-7550..


May 29, 2017 - ( Scottsburg IN ) New creation addiction ministries fund raiser car show downtown 9am - 3pm. Cost for registration is 15.00 each participant will receive a $10.00 Cracker Barrel gift card and 1 additional gift. Trophies will presented in memory of veterans by veterans of each branch of service. All monies raised goes to this ministry . Questions call 812-595-6110. Thank you in advance.




May 29, 2017, – (Martinsville, IN) Memorial Day 7th annual Anything on Wheels Memorial Day Car Show. Held on the square in downtown historic Martinsville, IN, 50 E Washington St. Memorial Day Ceremony at noon. Registration 9 am - noon, awards at 2 pm. Registration fee $15, with dash plaques to the first 150 registrants. Hand blown glass trophy for Best in Show, and 'parts' trophy for Best Paint, Best Interior, Best Engine, Best Bike, Best Truck, Best Modified, Best Original, Best Rat Rod; People's Choice award voted on by registrants. Top 20 will receive smaller parts trophies. 50/50, door prizes, including 2 Colts tickets, and great food and music. A portion donated to local veterans. For information, contact anythingonwheels74@yahoo.com or visit our website at http://anythingonwheels.weebly.com or Facebook at https://www.facebook.com/anythingonwheels2015 .