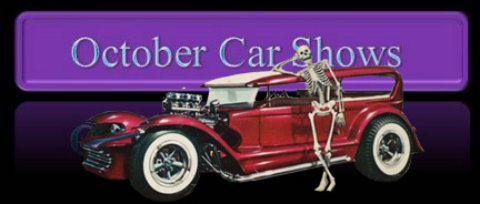 October 6, 2018 - Classic Car show And Golf Outing. For More Info And Pre registration, ( Info/pre register )




October 6., 2018 - ( Plainfield, IN. 46168 ) 8th annual cruise-in. Westgate Chrysler Dodge Jeep Ram 2695 East Main St. (US 40) Benefit show for JDRF (Juvenile Diabetes Research Foundation) 12:00-3:00pm. Parking and registration begins at 10:00am. Open to all makes and models. Free dash plaques to first 100 cars. No entry fee. Donations accepted for JDRF. Food and drinks will be available. Raffle and door prizes. DJ music, Fire truck display and other community events. Show hosted by Indy Mopar Club. www.indymoparclub.com. For more information contact Jeff at 260-403-6616 or onechevy1972@yahoo.com . See you there!




October 6, 2018 - ( Bloomfield, IN 4742 ) 11th Annual Bloomfield Apple Festival Car Show presented by Classic Cruisers Car Club . (Rain or Shine). Location: On the Square, 1 West Spring St, Bloomfield, IN 47424 ). Registration: 9 AM – 12 Noon. Entry Fee $15.00 Proceeds to benefit Riley Children's Hospital and local charitable activities. Pre-registration $10.00 (See http://www.classiccruisers.org for info and form.) Awards Time: 2 PM. Dash Plaques to the first 100 entrants. Door Prizes & Silent Auction. Awards: Jim Roberts Memorial, Top Apple, Queen's Choice, Club Participation, & Top 50. e-mail classiccruisers@comcast.net .. Web sites: http://www.classiccruisers.org and https://www.facebook.com/classic.cruisers.3 ..
October 6,
2018 -- ( Plainfield, IN 46168 ) The Autumn Classic Showcase, Benefit for the Celebration of Service Monument to honor First Responders. At the Al and Jan Barker Sports Complex, 451 Vestal Road, Plainfield, IN 46168. Registration from 1 PM to 4 PM with awards at 5 PM, Entry Fee is $20.00. Open to any year, make, or model cars, trucks, motorcycles, tractors, pedal cars, bicycles, race cars or pickle seeder. First 100 to register receive dash plaque and goody bag. Best of Show award, Top 20, club participation award and specialty awards. Door prizes 50/50, and surprises.
Contact Cubby at Trunktalesbycubby@yahoo.com
October 6, 2018 - ( Muncie, IN. 47303) Hot Rods For Hunger. Fourth Annual Car and Motorcycle Show from 1:00 p.m.-5:00 p.m. Anything on wheels is welcome, including import cars. This Show is hosted by the Muncie Mall located at 3501 N. Granville Ave, Muncie, In. Registration is currently open. Entry fee; a freewill donation to the Second Harvest Food Bank. Over 30 trophy classes. Awards will be given including cash awards for Best Club participation and Best of Show. NEW AWARD category this year for MOTORCYCLES! Family Fun including music, food and drink, Beer and Wine Garden (21+), Raffle Prizes, and free pumpkins for the kids, plus Touch-A-Truck Experience. Dash Plaques For First 100 registered vehicle entries. Contact: Alex Sheward: 765-287-8698, ext 118; or asheward@curehunger.org.



October 6, 2018 - ( Atlanta, IN 46031 ) 4th Annual "Cruisin' for the Son" Car, Truck, Tractor, Motorcycle & Special Interest Show. At East Union Christian Church 1711 E. 296 St. Atlanta, IN 46031 (corner of US 31 & 296th in northern Hamilton County). Registration 8am - 11am. Awards at 1:30pm. Best Car, Best Truck, Best Tractor, Best Motorcycle, Special Interest, People's Choice & Pastor's Choice. Pancake breakfast available from 8:00a-12:00p. Music, corn hole, silent auction & door prizes. Entry Fee is $15, spectators are free. Proceeds will go towards our annual work mission trip. Rain date is Saturday October 13th. For info go to: www.eastunioncc.org or email: eastunioncc@gmail.



October 6, 2018 – ( Indianapolis, IN 46241 ) Lynhurst 7th & 8th Grade Center. 1st Annual Mars Hill Youth Center Car and Motorcycle Show. 2805 S. Lynhurst Dr. Indianapolis, IN 46241. Registration is 10:00 am to Noon, fee is $15. Awards will be held at 2:00pm. Awards will be Best Mopar, GM and Ford. Best overall truck. Best American bike, best foreign bike. Since this is an event to raise money to build a youth center, kids will be voting on the vehicles. 50/50 Raffles and concessions available. See our Facebook page 1st Annual Mars Hill Youth Center Car & Motorcycle Show Contact Jordan Moretti 317-777-1942 with questions.



October 6, 2018 - ( Indianapolis, IN 46221) 1st Annual Car and Craft Show from 2:00pm-6:00pm. at Southwest Church of the Nazarene,4797 Tincher Rd. Registration from 12:30pm-1:30pm. $20.00 per car, truck, or motorcycle. Awards for Best in Show, Pastor's Choice, and R!OT Youth Choice. Food will be sold on site. Craft vendors, direct sales, homemade crafts, woodworking, etc still needed too. $20.00 per vendor. Payment can be made the day of the event. We prefer you pre-register so we are prepare for you to be at event. All money raised will support our R!OT Youth for a trip to Phoenix, Arizona July 2019. Call Dana Metcalf 317-502-9314 or email dmetcalf04@gmail.com to register.




October 7, 2018 - ( Indianapolis, IN. 46219 ) Art's Skillet, 9976 East Washington Street, (Corner of Washington and Mitthoeffer Streets) Carol's Adventures hosts another Fast and Furious Movie Car Competition - at her 25th annual Holiday Classic Car Truck and Bike Show". Are you driving a James Bond car, a Fast and Furious movie car or THE GHOST AND MR. CHICKENS CAR? Show up early for some pancakes at Art's Skillet - Registration $15.00 11:45 a.m. to 3:00 p.m. awards at 3:30 p.m. Competition is fierce this Harvest Holiday for Top 30 Open Class, many,many of Carol's specialty awards, medals for veterans and Best in Show tophy. There will be good music, door prizes every hour and more. To pre-register contact carolsissom@yahoo.com or call (317) 938-5403



October 7. 2018 – ( Greenfield, IN 46140 ) – 25TH Annual Auto-Fest – Brandywine Cruisers, Inc. / 100% Benefit for Boys & Girls Clubs of Hancock Co. / Inskeep Ford – 2651 West Main St. Greenfield, IN 46140 / $100 Pre Reg Drawing / Reg 9A – 1P / Awds 3:30P / Dash Plaque while last / Entry donation $15.00 / T-s To Pre-Entries / Open To All Vehicles – All Years, Bikes and clubs / Big Wally and the Home Wreckers Return! / Silent Auction / 50-50 / Vendors / Food by Dayton's Family Affair / Favorite 30 / Favorite of Show – Splty Awards / Entry Form at Web Site www.BrandywineCruisers.com / Contact at email BrandywineCrzrs@aol.com / Info: Mike: 317-402-9510 – general1pershing@aol.com / John: 317-498-4274 / misterzapf@aol.com / Dave: 317-861-7034 /dynodave591@comcast.net



October 13, 2018 - ( Avon, Indiana ) 8th Annual Cruisin' For Strides car show. Supporting Breast Cancer Patients through the IWIN Foundation (Indiana Women In Need). Registration is 9:00am-noon, awards at 2pm. Awards include Best of Show, Top 40 and Car Club Participation. The first 100 registered receive a dash plaque and an event T-shirt. Goody bags while they last. There were 161 registered cars in 2017. Come out for a day full of fun, excitement, music and food! Enjoy our vendors also… Laid Back; Furious Shine; One Cheesy Family Food Truck; Harold Smith Photography. As always this is a great day of gear-head camaraderie while supporting those suffering from Breast Cancer. Fee is $20 day of show or pre-register for just $15 (nonrefundable), contact Bobby or Kathy at kaburdine@outlook.com or 317.919.6049 for a registration form. Thank you! We look forward to seeing you!



October 13, 2018 - ( Indianapolis, IN ), Ben Davis Lions Club Shine & Show Car Show and Pancake Breakfast at Ben Davis University (1155 S. High School Road, Indianapolis, IN 46241). Registration from 8am-9am, Awards Presentation at 12 noon. Registration fee of $15 includes one (1) Pancake Breakfast Ticket. Additional Pancake Breakfast Tickets can be purchased $7 the day of the event. Dash Plaques for the first 30 vehicles registered. Lots of door prizes and a 50/50 Drawing. T-shirts will be available for just $10. Event open to anything on 4-wheels! Awards for Club President's favorite, Club Member favorite, Public's Choice and more! Come for the cars, stay for the UNLIMITED pancakes! Contact: Tim McDonough at 317-442-1131 or t.mcdonough@sbcglobal.net.
October 13, 2018 - ( Columbia City , Indiana 46725 ) Autumn Harvest Festival Car Show - The 5th annual Autumn Harvest Festival Car Show will be held on October 13th at the Whitley County 4-H Fairgrounds. This show will be held in conjunction with many activities that day including Craft Show and Flea Market, Pedal Tractor Pull for kids, and other kids activities. There will also be several music groups performing throughout the day. Admission to the Festival is free. Registration for the car show is $15 the day of the show ($10 if pre-regisered by October 1). There will be 3 divisions this year, Pre 1950, 1951-1979 and 1980 and newer. Awards will be given for each division, as well as Best in Show, Peoples Choice, and Furthest Traveled. Dash plaques for 1st 75 entries. Last year we had over 100 entries in the show, and expect it to be even bigger this year. Contact: Jeff Geiger (260)229-0635, whitleycounty4h@gmail.com



October 13, 2018 – ( Martinsville, IN 46151) – Morgan County Fall Foliage Festival Car Show located at John R Wooden Middle School, 109 E. Garfield St., Martinsville. Registration is $15.00 Shows begins at 8:00 AM and awards are at 1:00 PM. Dash plaques to first 100 entries. Top 25 awards plus many specialty awards. Food available at the show. Indoor restroom access. Participants will be invited to parade their vehicle through the downtown festival once awards are announced. For any further questions, contact the Fall Foliage Office at 765-342-0332.



October 13, 2018 - ( Evansville, In 47715 ) River Pointe Health Campus 001 Galaxy Drive. Pre Register by calling Justine 812-453-4027 Registration 1pm-2pm Trophies at 3:30pm. Cops Connecting with Kids Car Show/ Chili Cook off. Half Pot $1 each arms length $10. Drawing at 3:25 pm. Hamburgers, hot dogs, chili and drinks. Pies and cobblers for sale Bake Sale Ticket Table (Bid on baskets) All money raised goes to Cops Connecting With Kids Disney Adventure​.


October 14, 2018 - ( Lewisville,Indiana 47352 ) Lewisville Volunteer Fire Dept.Fall Flashover Car Show,held at the Community Park on US 40. Registration is $15 from 9am / 12am. Awards at 2 pm.($250 Participation Award) Drawing for registrants.Top 15 1979& Earlier,Top 15 1980 & Newer, Top 5 Trucks,Top 5 Imports,Best Paint,Best Engine,Best Interior,Best Primer,DJ Choice,FD Choice, Best Mustang 64-69,Best Corvette 53-59,Best Camaro 67-69,Best Chrysler Product,Best Ford Product,Best GM Product,Best 'No Longer in Production',Best Rat Rod Car,Best Rat Rod Truck. 765-265-2054, Facebook@LVFDFiremansFestival .
October 20, 2018 - ( Veedersburg IN ) at steam corner flea market on us 41 at veedersburg indiana. River Rat Rodders are hosting Hot rod to fight leukemia car show to benefit Deanna Ruby,Cost is 15.00, Sign ins 10am to 12 and awards at 3pm, 1980 and older top 20 and best of show is homemade car parts clock trophy.1981 and newer top 3 Top 3 Motorcycle and top 3 rat rods Deanna was diagnosed with leukemia all proceeds go for her medical expenses, so come out and support her there will be a huge flea market,food vendors, door prizes and silent auction. For more information call John Gee 812-239-1932

October 20, 2018 - ( Bethlehem, In 47104 ) Autumn on the River Festival 4th annual Classic Car Show in Bethlehem, In. Registration begins at noon, cut off at 1:30. Fee is $10.00. Judging at 3:30. Trophies for: Best of Show, People's Choice, Kids Choice, and Best Rat Rod. All vehicles must be driven in. Proceeds benefit Historic Bethlehem Scholarship Fund. Contact Bill Hawkins 502-608-9479. Registration Form at www.Autumnontheriver.com .




October 20, 2018 - ( Muncie, IN 47302 ) 1st Annual 26th Street Fall Classic. Free Admission! Held in Wesleyan Chapel Church parking lot from 2 PM to 6 PM weather permitting. 1819 E 26th St. Muncie IN 47302 Trophies given for best of show, kid's choice, and crowd favorite. Local food vendors. Call or text Jon Hopkins for more info (270)-980-2801..






October 20, 2018 - ( Indianapolis, IN 46208 ) - Cars & Gravy - 8am-noon - 215 E 38th Street, Indianapolis. A monthly community event that welcomes vehicles of all types - classic, new, custom, ... No charge to participate, just stop in. A selection of local vendors also on hand, including Old Major Market selling biscuits and gravy plus other breakfast foods. Event itself is free and everyone welcome; pet- and family-friendly. This month's Cars & Gravy will also host a donation drop-off for Down Syndrome Indiana. Costumes optional for the October event! See our Facebook page (National.Indy) and Instagram (National_Indy) for more information and pictures from previous months. Question? Email us at national.indy@gmail.com.



October 20, 2018

- (Indianapolis, IN. 46239) Boy Scout Troop 152 5th Annual Car Show. This show is held at Camp Sertoma, 2316 S German Church Rd. Indianapolis IN 46239. DASH PLAQUES TO FIRST 75. Registration Fee $20.00 -

9:00am - 12:00 pm.

Judging

12:00pm - 2:30 pm.

Awards at approx: 3:30 pm. Awards: 3-BEST of SHOWS, Top 10 (2000 & up), Top 40 (1999 & down), Best: Engine, Interior, Paint, Early Ford, Early Mopar, Early GM, Import, Truck, Female Driven, Mustang, Camaro, Late Ford, Late Mopar, Late GM, Unfinished, Original, Modified, Pro Street, Most likely to get a ticket, Just Because, Calvin Barker Memorial award, Roger Schumacher Founder's Award as well as Choice: Scout, Scoutmaster, DJ, Hosts and Sponsors. Music, food, drinks & Silent Auction. Also check out some Scout activities: Dutch Oven Cooking, Fire building and many other Activities. All proceeds go to Troop 152 to help all activities for the scouts. Contacts: Ron Barker rbarker67@comcast.net 317-490-4509, Ron Parsonsparsonsr1969@gmail.com 317-965-2116, www.troop152.scoutlander.com.
October 27,, 2018 - ( Monrovia, IN 46157 )...The 29th Annual car, truck, and bike show on September 8 from 9 AM- 3PM at 185 W Washington Street...follow the signs. Registration is from 9-noon and Awards at 3. For Car and trucks awards will be given for the top 50, Best Engine, Best Paint, Best Interior, Best of Show. For the Bikes Top 5 Best Paint, Best of Show. Pre registration $17.00 Day of the Show $20.00. Proceeds go for scholarship for Monrovia High School Senior. Any questions please contact Dale 317-714-0817 or Tom 317-410-9573. Make checks payable to Monrovia Masonic LOdge #654 Craft Club and mail to 7391 N Baltimore Rd, Monrovia, IN 46157.


October 27, 2018 - ( Clarksville, IN. 47129 ) Last Time Out of the Garage Car Show. This Show Is Held At 951 E Lewis & Clark Parkway. Registration 10am Till Noon. Fee is $15.00 early bird, $20.00 day of show. Awards At 3:00pm. Trophies: Top 25 Show, Best In Show, President's Choice, Best Ford, MOPAR, GM, Best Truck, Best Truck, Best Non-Big Three, Best Late Model, Best Interior, Best Paint, Best Engine, Best Street Rod & Classic. Top 3 Motorcycles. More information, Dawn 270-317-6026 or www.kipva.org on the events calendar.



October 27,2018 - ( Indianapolis, IN 46227 ) Rain or Shine! Introducing the CCS Fall Festival Open Classic and Modern Car Show hosted by Calvary Christian School (CCS) at 3639 S. Keystone Ave. Events includes the Fall Fest Silent and Live Auction. Auction may include new or gently used furniture, decorative items, household items, books, antiques, collectibles, music instruments, business donations, used cars, sports memorabilia, old coins, toys, tools, etc. There will be games available for kids. Food available for purchase inside includes BBQ from Smokin' Barrel BBQ along with concessions including coffee, homemade desserts and food trucks outside. Sounds Yummy!!! Car registration starts at 8:30am with awards presented to the Top 10 Classics and the Top 10 Modern cars at 2pm. There will also be a Best Of Show in each category. Modern cars will be considered from year 1970 and newer. The Top 20 will be judged by CCS Students and the Best Of Show in both categories by Principal Charles Barcus. Car Registration is donation only! After the awards there will be a Road Rally with a scenic route to Moorseville, IN to Gray Bros. Cafeteria for all drivers who would like to participate, we will eat dinner there (everyone is responsible for their dinner). All proceeds benefit the furtherance of education of our students at CCS, along with band equipment, music department, CSI Hurricane Disaster Relief, CCS Scholarship Fund, student council and STEM Education. You can preregister at CCSCARSHOW@GMAIL.COM. Please include your information, the year, make and model of your vehicle. For more information contact Mike King at 317.538.3003. **If you are part of a club and want to reserve parking contact Mike.



October 27, 2018 - (

​ ​

Bloomington, IN. 47404

​ ​

) Cruise In and Yard Sale for Noah. Noah is a preteen with a rare form of Muscular Dystrophy (DMD). Noah is active in the local church, school activities, and Boy Scout Troop 148. Noah's needs have increased as he has gotten older and is now to the point where he needs a wheelchair accessible van. Noah's and his family are raising money to modify their transportation to accommodate Noah's ever growing needs. Please come out and help support Noah. There is no entry fee, however donations are accepted. The Cruise In will be held at St. Paul United Methodist Church in Bloomington Indiana from 9am-2pm. Food will be served from 9 am -1pm. For information please contact Heather at (812) 361-9634 or NTFUNDRAISER@GMAIL.COM. Also check out Noah's page at http://www.jettfoundation.org/jgf18toms.
October 27, 2018 – ( Bloomington, IN 47403 ) The Kiwanis Club of South Central Indiana Balloon Fest Car Show originally scheduled for September 9th has now been rescheduled on October 27th. The show will still be held at the Monroe County Fairgrounds, 5700 W. Airport Rd., Bloomington IN. Registration will be from 9-10 AM. Important, as I understand it you can only enter the Fairgrounds during this time through Gate 3. The show will be from 10 AM to 2 PM. There will be NO entry fee, only donations. Proceeds will be going to Riley Children's Hospital. Dash Plaques for the First 50. Award categories include: Import, Convertible, Rat Rod, Tuner, Coupe, Off Road, Pre 1966, 1966-1990, 199-2017, Motorcycle, People's Choice, Best of Show, Most unique. http://kiwanisindianaballoonfest.com/ Contact: Vanessa McClary 812-327-8575.



October 27, 2018 - ( Indianapolis IN ) Calvary Christian School Fall Festival Car Show; Open to all classes, Antique, Muscle Cars, Classic and Modern. Food Trucks, October 27th, 10AM 3639 S. Keystone Ave, Indianapolis. To register: email us your contact info and the make, model and year of the car. ccscarshow@gmail.com



October 31, 2018 - ( Indianapolis IN 46221 ) Decatur Township fire Dept 5420 S. High School Rd. Safe Halloween Trunk Or Treat and Car Show. Awards Dash Plaques, Food. 5pm till 8pm.