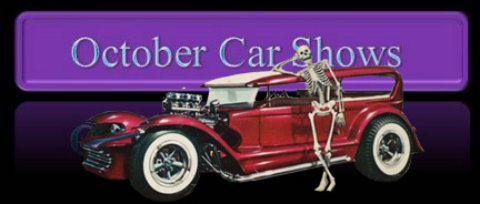 October 1, 2017 - ( Indianapolis, IN. 46237 ) Open Car, Truck, Bike Show. All Makes, Models And Years Welcome. Show is Being Held At RITTER'S Frozen Custard 4949 East Stop 11 Just West Of Emerson Ave. Registration 9;30am Till 12:30pm, Fee Is $15.00. Dash Plaques . Show To Benefit Alzheimer's In Memory Of Chuck Guedel. Entertainment By The StarFire Cloggers At 1;15pm. Awards At Apx 3;15pm. Top 25 Awards And Best Of Show. Plus Cloggers Pick And Special Pick Awards By The Guedel Family Picks. Best Camaro All Years.Best Engine, Best Interior, Best Corvette All Years, Best Mustang, Best Bike, Best rat Rod, Best 4x4.



October 1, 2017 – ( Monticello, IN 47960 ) Wine and Wheels Car Show. at the Whyte Horse Winery. 1510 S. Airport Rd. Registration from 11-1pm Awards at 4pm. Fee is $10.00 Open Show/Judged Show. 75 Total Awards for 4 Classes. Top 40 Classic/Custom ('00-'89), Top 15 Late Model ('90-Present), Top 10 Trucks and Top 10 Survivor/Special Interest. Each Class will be recognized with a "Best of Class" Award. Open Show/Judged Show. Dash Plaques to First 75 Entries! This is by far, one of the finest venues for a show event you will ever attend! The beautiful surroundings of the Whyte Horse Winery plays host to a special day of artistic displays, antiques, great food, music, wine tasting and of course, a great classic car & truck show. Plenty of grassy area parking with some shade trees overlooking a beautiful vineyard…It doesn't get any better than this! Rain date will be Sunday, October 8th. Contact: Ken Prieboy at 574-870-4888 or kenprieboy@comcast.net ..


October 1, 2017 - ( Fort Wayne, IN 46814 ) Cars & Kidneys Classic Car Show. Southwest Lutheran 2nd annual Classic Car Show and Health Fair, with Kidney Screenings by National Kidney Foundation of Indiana. This Show Is Held At 5120 Homestead Road, Fort Wayne, In. Noon to 4 PM. Registration is $5.00 benefitting the National Kidney Foundation of Indiana. Awards At 3:30pm For Top 15 Peoples Choice awards. Dash Plaques For First 50 cars. Food by Big Eye Fish, Music, Door prizes, and a health fair. Indiana Kidney Foundation is conducting their regional screening inside the church, plus health related exhibits in the gym. Contact: Mike 403-3947 or mlgreener@aol.com ..


October 7, 2017 - ( Anderson, IN ) Madison County Democrat Ladies Club Car, Truck and Cycle Show, UAW Hall, 2840 S. Madison Avenue, Anderson, IN, $10 Entry Fee, Registration from 10 till 12 noon, Judging at 12 Noon and Awards at 1:30 - Top 20 Trophies, President's Choice, Best of show, Peoples Choice, Largest Club Participation, Dash Plaques, Great food and Door Prizes. For more information contact Carol Riley (765)621-4067.



October 7, 2017 - ( Muncie, IN. 47303) Hot Rods For Hunger. Third Annual Car Show from 1:00 p.m.-5:00 p.m. Anything on wheels is welcome, including import cars and motorcycles. This Show Is Held At 3501 N. Granville Ave, Muncie, In. Registration is currently open. Entry fee; a freewill donation to the Second Harvest Food Bank. 20 trophy classes. Awards will be given including cash awards for Best Club participation and Best of Show. Family Fun including live music, vendors, food and drink, Beer and Wine Garden (21+), Raffle Prizes, Cornerstone Art Experience, and games and activities for kids.Dash Plaques For First 50 registered car entries. Contact: Alexandra Hammel: 765-287-8698 or ahammel@curehunger.org ...




October 7, 2017 - ( Lebanon, IN. 46052 ) Signature Healthcare at Parkwood 2nd Annual Anything On Wheels Car, Truck, & Bike Show. This Show Is Held At 1001 N Grant Street Lebanon, IN 46052. Registration 10am Till Noon. Fee is $10.00. Awards At 12:45 pm. Dash Plaques For First 30, Food, Music, and Fun. Contact Facility for more info 765-482-6400.


October 7, 2017 - ( Holland, IN 47541) 8th Annual Douglas R. Partenheimer "Cruisin' Toward a Cure for PF...Because Breathing Matters" Car/Truck/Motorcycle Show and more! Join us at The Holland Municipal Park on Hwy 161 at the Windmill (904 N. Meridian). Day of show registration 9am- Noon (ET) $20. All entrants will receive goodie bag and dash plaque while supplies last. Tons of door prizes for entrants along with FREE cheeseburger meal (while supplies last). Awards at 3:30 pm (EST) and will include top 20, specialty awards, and car club competition. Other events include HUGE silent auction, food stands, music, trivia, raffle, 5K, corn hole tourney, and more! Proceeds fund research through the Pulmonary Fibrosis Foundation. Contact Kelly with questions kelly@becausebreathingmatters.org or (317) 372-1584
www.becausebreathingmatters.org .


October 7, 2017 – ( Bloomfield, IN 47424 ) 10th Annual Bloomfield Apple Festival Car Show. Location: On the Square, 1 West Spring St. Entry Fee: $10.00 Proceeds to benefit Riley Children's Hospital and local charitable activities. Registration: 9 AM – 12 Noon. Awards Time: 2 PM. Dash Plaques to the first 100 entrants. Door Prizes & Silent Auction. Awards: Jim Roberts Memorial, Top Apple, Queen's Choice, Club Participation, & Top 50..



October 8. 2017 – ( Greenfield, IN 46140 ) – 24th Annual Auto-Fest – Brandywine Cruisers, Inc. / 100% Benefit for Boys & Girls Clubs of Hancock Co. / Inskeep Ford – 2651 West Main St. Greenfield, IN 46140 / $200 Pre Reg Drawing / Reg 9A – 1P / Awds 3:30P / Dash Plaque while last / Entry donation $15.00 / T-s To Pre-Entries / Open To All Vehicles and clubs / Silent Auction / Vendors & Food / Favorite 30 / Favorite of Show – Splty Awards / Entry Form at Web Site www.BrandywineCruisers.com / Info: Mike: 317-402-9510 – general1pershing@aol.com / John: 317-498-4274 / misterzapf@aol.com / Dave: 317-861-7034 / dynodave591@comcast.net ..



October 14, 2017 - ( Indianapolis IN ) Rosegate Assisted Living 7510 Rosegate Dr. off South Emerson Ave, Fall Festival Open car Show. Registration 9am Till 11:00am. Fee Is A Donation. Awards at 2pm. Best of Show, Staff Pick Residents Pick. Awards for best 30's, 40's, 50's, 60's. Newest and oldest. Dash Plaques to first 60.Free Lunch.



October 14, 2017 - ( Avon, IN ) 7th Annual "Cruisin' For Strides Car Show". 8244 E US Hwy 36, Avon. (Near Northeast corner of US 36 & Dan Jones Rd.) All vehicles welcome. Dash plaque & t-shirt to first 125 registered. All proceeds go to Hendricks County's Making Strides Against Breast Cancer. Join us for a day of cool cars, food, music, fun and just hang out with fellow gear heads. Registration 9am-12n; Awards at 2:00pm. Top 30, Best of Show, and Club Participation. Following awards, traffic stopped for show cars to exit event and cruise together down US 36. Registration day of show $20; Pre-Registration $15, contact Bobby/Kathy Burdine at kaburdine@outlook.com or 317-919-6049 (Rain date October 21)..




October 14, 2017 - ( Fishers, IN 46038 ) Circle City Volkswagen Club- VW, Porsche, Audi air & water cooled show. Located at the Tom Wood Aviation Airport, Indianapolis Metropolitan Airport. Free show and free swappers. Prizes, awards, vendors,Food trucks, music, beer, give-aways. Over 400 cars in attendance. Awards for a Porsche/Audi as well. Watch for details at http://www.ccvw.org/ or facebook.com/Volktoberfest2017 . Contact Danny at 317.946.8763..





October 14, 2017 - ( Cambridge City, IN ) Open house and Car Show. 9 am to 3 pm. Custom Metal Finishing is having an open house at its new facility 508 S. Green Street in beautiful Cambridge City Indiana. Goodie bags available to all participants. Show cars have special parking. No registration fees! Call to preregister your car and or your car club. Your parking will be set and ready for you when you get here. Goodie bags are $8.00 each and contain many different things, including 6 special bags will have a $100 gift card to CMF! Maximum of 500 goodie bags available. Door prize ticket inside every goodie bag. Awesome food and drink available from 9 am to 2 pm. Open house of our new facility includes access to all the polishing and plating areas of the shop. Come see how its done!



October 14, 2017 ( Columbia City , IN 46725 ) -Autumn Harvest Festival Car Show - The 4th annual Autumn Harvest Festival Car Show will be held on October 15th at the Whitley County 4-H Fairgrounds. This show will be held in conjunction with many activities that day including Craft Show and Flea Market, Pedal Tractor Pull for kids, Farm Toy Show, and other kids activities. There will also be several music groups performing throughout the day. Admission to the Festival is free. Registration for the car show is $15 the day of the show ($10 if pre-regisered by October 1). There will be 3 divisions this year, Pre 1950, 1951-1979 and 1980 and newer. Awards will be given for each division, as well as Best in Show, Peoples Choice, and Furthest Traveled. Last year we had over 100 entries in the show, and expect it to be even bigger this year. Contact: Jeff Geiger (260)229-0635, whitleycounty4h@gmail.com .





October 14, 2017 - (Rochester, IN 46975) 22nd Annual Red Hot Car/Truck/Motorcycle Show & Swap Meet along with Chili Cook-Off. Downtown Courthouse Square. Registration 8:00 a.m. to 11:00 a.m. with judging beginning at 10:30 a.m. and awards at approximately 4:00 p.m. Judged show with awards for top 3 places in each class, as well as specialty awards and club participation ($100 cash). $20 Entry form and description of classes available at www.fultoncountyblacktopcruisers.com . ; Pre-registration forms postmarked by 10/1 will receive a free show T-shirt.



October 14, 2017 - ( Martinsville, IN 46151 ) Annual Fall Foliage Festival Car Show and Swap Meet. Located at John R Wooden Middle School (West Middle School) 109 E Garfield Ave, Martinsville, IN 46151. Registration 8am Till 11am. Day of Show Fee is $15.00. Pre-registration is $10. Awards At 1 pm. Numerous awards including Top 25, custom hand made awards, Best Paint, Best Interior, Best Engine, Best Chevy, Best Mopar, Best Ford, cash prize for Best of Show and many many more. Dash Plaques For First 100, Food, Music, Door prizes and more. Anyone with questions can contact the Fall Foliage Festival office at 765-342-0332.




October 14, 2017 - ( Arcadia, IN 46030 ) First Annual FFA Car show and Fall Festival. Hamilton Heights High School, 25802 State Rte 19, Arcadia, IN 46030. Registration from 9:00 to 11:00 Awards at 3:30. Awards will be given for Top 20 Open Class as well as Best Truck, Best Street Rod, Best Hot Rod, Best of Show and Principals Pick. Registration for car show is $20 and all proceeds will go back to the FFA. Admission into Fall Festival is free. Fall Festival includes Pony Rides, Hay Rides, Pumpkin Carving, Straw Mazes, Face Painting and more! Festival will be open until 6:00. Email hhffapresident@gmail.com for more information..





October 14, 2017- ( Southport, In. 46227 ) Donate To Dine is hosting a Car Show with Trooper Bartrum Memorial Foundation "Christmas For Kids" In Honor of LT. Aaron Allan.Christy's of Indiana Car, Truck and Motorcycles 1St Annual Car Show. Judging by Attendees and Southport Police Department, held on 9 acres at 6851 Madison Ave Southport IN. Registration 10:30-Noon, Fee is $15 No Pre-Payments, Awards 3:00pm Best Old Skool, Best Lead Sled, Best Mopar, Best Ford, Best Chevy, Best Pontiac, Best Street Rod, Best Paint, Best Truck, Most Chrome, Best Motorcycle, Peoples Choice, Police Chief Award. There will also be a Hog Roast with burgers and hot-dogs available. There will be Raffles, Door Prizes for Adults and Kids. Kokomo's Finest "Malachi's Magnificent Lemonade Stand" will be Available on Site. If a Clubs would like to make special arrangements please contact Organizer Jeff Stafford 317.946.3686 / Facebook: Donate to Dine in Honor of Lt. Aaron Allan..



October 21, 2017 - ( Indianapolis, IN. ) EMPORIUM Classic Car, Truck & Bike Show Held At 3535 South Emerson. Registration 10am Till 12:30pm Fee Is $15.00. Awards At 3pm For Top 20 Open Class, Plus Best Street Rod, Rat Rod, Muiscle Car, Import, And Best Motorcycle And Best Of Show. Dash Plaques, Door Prizes, Music, Food and Drinks.



October 21, 2017 - ( Indianapolis, IN. 46239 ) Boy Scout Troop 152 4th Annual Car Show. This show is held at Camp Sertoma, 2316 S German Church Rd. Indianapolis IN 46239. DASH PLAQUES TO FIRST 75. Registration Fee $15.00 - 9:00am - 12:00 am. Judging 12:00am - 2:30 pm. Awards at approx: 3:30 pm. Awards: 3-BEST of SHOWS, Top 10 (2000 & up), Top 40 (1999 & down), Best: Engine, Interior, Paint, Early Ford, Early Mopar, Early GM, Import, Truck, Female Driven, Mustang, Camaro, Late Ford, Late Mopar, Late GM, Unfinished, Original, Modified, Pro Street, Most likely to get a ticket, Just Because, Roger Schumacher Founder's Award as well as Choice: Scout, Scoutmaster, DJ, Hosts and Sponsors. Music, food, drinks & Silent Auction. Also check out some Scout activities: Dutch Oven Cooking, Fire building and many other Activities. All proceeds go to Troop 152 to help all activities for the scouts. Contacts: Ron Barker rbarker67@comcast.net 317-490-4509, Ron Parsons parsonsr1969@gmail.com 317-965-2116, www.troop152.scoutlander.com ..





October 28, 2017 - ( Clarksville, IN 47129 ) Last Time Out of the Garage Car Show. Bass Pro Shops side lot - 951 E Lewis and Clark Parkway. Registration from 10:00 am to Noon. Judging will begin at 11:00 am, Prizes at 3:00pm. Early bird registration $15 – before October 16th, $20 Day of Show. The show will be held rain or shine. Goody Bags will be provided to the first 50 to register. Dash Plaques will be provided to the first 100 to register. Trophies Top 50 in Show, Veteran's Choice, People's Choice, Best GM, Best Ford, Best Mopar, Best Non-Big Three, Best Interior, Best Paint, Best Truck, Best Engine, Best Street Rod, Best Classic, Best in Show, Best Late Model, Top 3 Motorcycles, Farthest Traveled, Club Participation Award. Door prizes. Trunk or Treat & Kids Activities. More Info & Online Registration: www.kipva.org or call 502-635-6539. All proceeds to benefit Kentucky-Indiana Paralyzed Veterans of America.




October 31, 2017 - ( Indianapolis, IN ) Decatur Township Fire Department Safe Halloween. Will be at Decatur Township Station #71 at 5410 S. High School Road, Indianapolis, In. Will be from 5:00 PM till about 8:00 PM. NO ENTRY FEE!!!! Dash Plaques to First 50 Cars!!!! Two 21" High 2 Post Trophies will be given. One for: Fireman's Choice and one for People's Pick. A 33" High 3 post Trophy will be given for Fire Chiefs Pick. Bring Candy for the Trick or Treaters . If you can, please try and be there before 5:00 PM. If you can't make it by 5 PM, come anyway, we will find a place for you!! For Questions or more info email: thayden@decaturfire.org